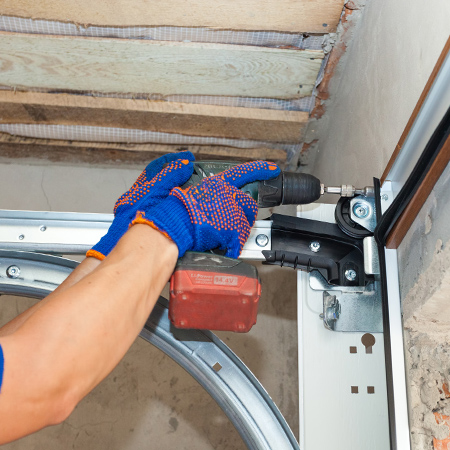 A garage door is an important but often overlooked part of a home or business. We use them daily for convenience and safety. They are also an important part of curb appeal. When something goes wrong and they break, it can be a big inconvenience. Your car may be stuck inside the garage, your house may be insecure, and more. That's why you need California Overhead Door. At California Overhead Door, we provide the best garage door repair in Hollister, CA.
Our team is ready to have your garage door up and running in no time. Our expert technicians will pinpoint the malfunction and assess whether a simple repair or full replacement is required. After the inspection, we'll inform you of your options so you have time to make the best decision.
With California Overhead Door, you can be confident that your garage door repair Hollister, CA will be handled with care and skill.
Hollister homes and business owners have trusted California Overhead Door for new garage doors and repairs since 1996.
California Overhead Door
2300 Technology Pkwy., Ste. #3
Hollister, CA 95023
Ph: (831) 636-2904
---
Garage Door Repair
While garage doors may seem fairly simple, garage door repair is a complicated task. Garage doors are complicated. There are dozens of moving parts that all need to be working in sync. If just one of these parts breaks or malfunctions, the entire door can stop working.
There are numerous factors involved in garage door repair. The technician must consider what kind of door it is, if the issue is mechanical or electrical, if the door can be repaired or needs to be replaced, and much more.
This means garage door repair requires knowledgeable and skilled technicians, which are often hard to find. Many garage door repair companies have a hard time getting the job done.
At California Overhead Door, we take pride in our work. Our team has years of experience and is ready for any garage door repair in Hollister, CA. No matter what kind of garage door you have, we are ready to help with all of your repair and maintenance needs.
---
Garage Door Repair Company
Finding the right garage door repair company can be difficult. There are dozens upon dozens of options, all advertising their services.
However, many of these companies deliver subpar work at a high price. This can result in a garage door that still isn't fixed and a bill that many cannot afford.
Other companies will be misleading and always say that your door needs to be replaced instead of repaired. Unethical practices like these can lead to unnecessary costs and don't promote trust between the business and client.
With California Overhead Door, you don't have to worry about shoddy garage door repair, misleading practices, or excessive bills. Our team is trustworthy and experienced, ensuring you will get the high quality repairs you need. And our prices are fair so everyone has access to the garage door repair they need.
---
Reach Out Today
If you are looking for garage door repair in Hollister, CA, look no further than California Overhead Door. We are ready to help you with all of your garage door and garage door repair needs.
Our team is capable of repairing all makes and models of garage doors. No matter what issue your garage door is having, we will get it working again.
Our dedication to our clients is unmatched. We guarantee that you will be 100% satisfied with our work. So stop your search for garage door repair and reach out to California Overhead Door to get started.
If you have any questions or want to talk with one of our experts, feel free to reach out and contact us. We also offer free estimates, so get in touch and schedule yours today!