>> DOWNLOAD  THE PDF TRANSCRIPT
Your garage is most likely going to need to be repaired from time to time. Thankfully they are professionals who can quickly fix your garage door and keep it running.
At times though your garage door may be past the point of fixing. If you are spending a lot of money to fix your garage door then it may be wiser to just replace it.
The team at California Overhead Door are professionals at garage door installation and can help you replace your garage door if it is past the point of repairing.
Don't waste time or money trying to work with a garage door that is too far gone, know the signs of a garage door that should be replaced. Read on to learn more…
1. The Need For Repeated Garage Door Repairs
The typical garage door will need occasional repairs and maintenance to keep it running correctly. However, there are only so many repairs you can do before realizing you need to replace it.
If you have been spending a lot of money trying to get your garage door to work right, consider replacing instead.
The need for constant repairs is one of the biggest signs that it is time for a new garage door. Don't hesitate to get a free estimate to see if a replacement is the better choice for you.
2. There Is An  Excessive And Persistent Noise When Your Garage Door Is Operating
Is your garage door constantly making noises?
Have tried to have it fixed but the noises just keep coming back?
This could be a sign that you have bigger issues going on, or that you need a new garage door entirely.
Either way, you should talk to a trusted garage door technician to see if it is time to replace your garage door.
You don't have to live with that annoying noise or the fear that your garage door will stop working any longer!
Garage door installation is a quick and easy fix to problems like these. Your new garage door will be up and running in no time.
3. The Design Of Your Garage Door Is Out-Of-Date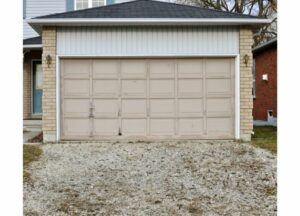 Out-of-date garage doors are why a lot of people choose to have a new garage door installed. An old garage door may not match the rest of your home's curbside appeal.
Consider updating your garage door to increase your home's aesthetics and up its value.
Older garage doors do not match home designs these days. Simply installing a garage door that's design works with your home will make your house look 10x better!
4. Your Garage Door Is Lacking Efficiency And Safety Features
Safety is incredibly important, especially if you are raising a family, and your kids play outside or in the garage. Many older models of garage doors are no longer safe and pose a risk to anyone near them.
Make sure your garage door has all of the up-to-date safety features or consider replacing it as soon as you can.
Older garage doors also lack efficiency and the newest technology. Updating your garage door can make things much easier.
One sign that your garage door might be a little too old or out of date is if it is not compatible with smart garage door openers. Smart garage door openers are incredibly helpful in improving security, and can also make your life easier!
Don't fall behind! Consider updating your home with a new garage door, and a garage door opener.
5. Your Garage Door Is Having Some Big Issues
If your garage door is having some serious issues such as large broken pieces, a noticeable sag, or it's not doing its job of opening and closing on demand, then it may be time to consider having a new garage door installed.
Garage door installation services are sometimes the better option or only option! If your garage door is having serious problems it is likely time to replace it with a new and updated version.
Need Garage Door Installation Services?
Based on this information, if you think you need to have your garage door replaced then you should hire an experienced company to determine your needs, and if need be help with your garage door installation.
California Overhead Door is well known for our experience, professionalism, and efficient work.
Click here to get a free estimate, we would be happy to serve you!