>>> DOWNLOAD  THE PDF TRANSCRIPT 
Your business is important to you, as it should be. That means that keeping everything inside your commercial garage safe and dry is important to you, too.    Choosing a commercial garage door that works for your business, keeps all of your assets safe, and is practical for the everyday needs of the company is an important decision.
In part one of this series, we went over the various types of commercial garage doors that are available. Today we will share some tips on choosing a commercial overhead door that will best serve your businesses needs.
Make Sure The Door You Choose Is Durable
A durable and long-lasting door that is made of high-quality materials is the most important factor. If you get a cheap door that is made out of weak materials, it won't last long and you will need to repair/replace it more often.
Be sure to do your research on sturdy, high quality doors. You should also hire a trustworthy commercial garage door contractor to install and maintain your garage door over the years.
Decide What Type Of Opener Will Work Best
"Commercial garage doors generally don't operate with the same type of opener as residential garage doors. They use hand-operated or powered openers instead. 
Hand-operated openers can be problematic for businesses because of their risk of injury for employees. They also aren't as useful for high-trafficked doors, such as loading docks, because they're slower to open. Opt for a powered opener instead, which uses a remote device inside the business."
Consider The Functionality Of Your Door
You can find commercial garage doors in a variety of styles and builds. You should find one that is designed to best work with what your business will be doing.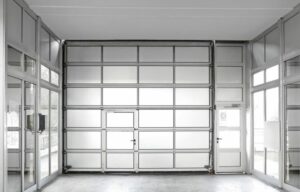 It is important to ensure that the functionality of the door matches the type of work you will be performing.
Consider the workload you will be putting on the commercial garage door and what type will work for your business.
Oftentimes warehouses and distribution centers choose sturdy, fireproof doors. Whereas, a car garage may choose rolling doors that work well with the constant in and out traffic.
Consider The Amount Of Money You Are Willing To Spend
We all know that money is a factor, especially in the business world! Considering how much you can spend on a commercial garage door is an important step in your decision-making process.
It is important to make a budget for the purchasing, installation, and maintenance of your commercial garage door.
Remember that when it comes to things like this it is important not to be cheap. A high-quality commercial garage door will last longer and keep the assets in your garage much more secure and safe.
While you don't want to go cheap, it is wise to shop around and find good deals on great garage doors. You should also look up "Garage door installers in my area", to find the best options for your garage door contractor.
If you are looking for a well established and professional garage door installer in your area then click here for a free estimate from CA Overhead Door.